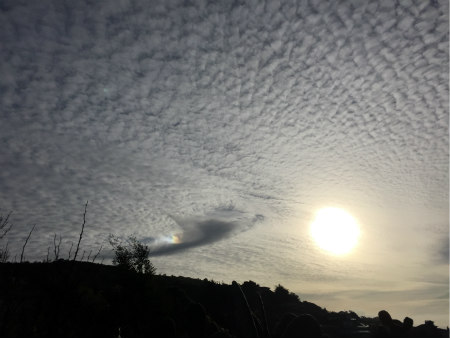 This is what it looks like when galactic visitors are in our skies.
Here the interdimensional, high frequency energies that emit from the lightship create this patterning in the clouds.
This is one way to locate and find lightships – to notice the patterning that their frequencies create in cloudbanks.
Notice also that this ship is outlined, on the right side of the image, from the rest of the cloudbank.  And, that there is a rainbow section that appeared after taking these photos for a couple minutes.
Something notable about this lightship, similar to the posting about The Fleet Arrives, is that this lightship is not in a traditional 'ship' shape from a human perspective.  It is reminiscent of a ship, but in more of a curvy shape with a 'U' in the middle!
Over a series of several minutes, I took 60 photos of this lightship and the sky around it.  More photos and additional text and detail are at this posting:  Sunshine Lightship Review.
Love,
Solaris
© 2016 Solaris Modalis.  All Rights Reserved.
 Permission is given to share this article on other blogs and websites as long as the text is posted in its entirety without alteration and with the accompanying photos (if photos are in the repost), and with the author's credit, copyright and live website links included in the article. Twitter handle is @SolarisModalis