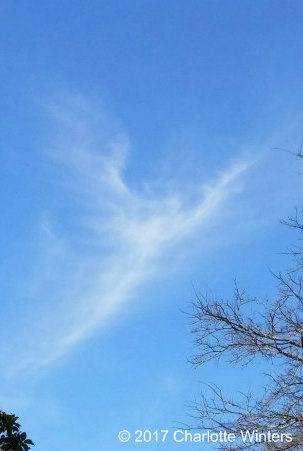 This beautiful Cloud Angel photo was taken by Charlotte Winters. There's nothing like feeling the need for support, looking up to the sky, and receiving a signal. This cloud angel was Charlotte's sign.
Read more about Charlotte's experience at our blog post: Cloud Angel.
Did you know you can sort our gallery of portfolio images by topic?  Go to www.SolarisModalis.com, scroll to the portfolio section, or click on Gallery in our top menu, and select the category of images you wish to view. Categories include:  Starships, Sky, Sun, Art.
© 2017 Solaris Modalis. All Rights Reserved. Permission is given to share this article on other blogs and websites as long as the text is posted in its entirety without alteration and with the accompanying photos, and with the author's credit, copyright and live website links included in the article.
Check out the blog and more photographs at www.SolarisModalis.com.
Photo © 2017 Charlotte Winters. Photo used with permission.