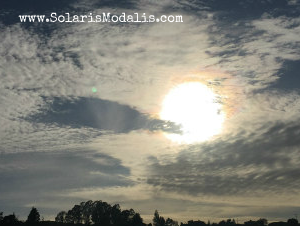 This is a pretty cool picture, because of the questions it raises.  The sunlight doesn't shine through!  Interesting, isn't it?  And yet, this shape appears to be blue sky.  Or is it a dark cloud, in front of the sun, that perfectly links with the patch of blue sky?
Is this an interesting photo of a cloaked ship?  If this is a cloaked starship in our skies, an interesting use of the cloak, isn't it?  Because in this case, the cloaking reveals the starship, hiding as a patch of blue among the clouds.
What do you think?
Read the detailed posting on the story of this photo at:  A Starship Shows in Sunlight (post)
Love, Solaris
Did you know you can sort our gallery of portfolio images by topic?  Go to www.SolarisModalis.com, scroll to the portfolio section, or click on Gallery in our top menu, and select the category of images you wish to view. Categories include:  Starships, Sky, Sun, Art.
© 2017 Solaris Modalis. All Rights Reserved.  Permission is given to share this article on other blogs and websites as long as the text is posted in its entirety without alteration and with the accompanying photos, and with the author's credit, copyright and live website links included in the article. Check out the blog and more photographs at www.SolarisModalis.com.