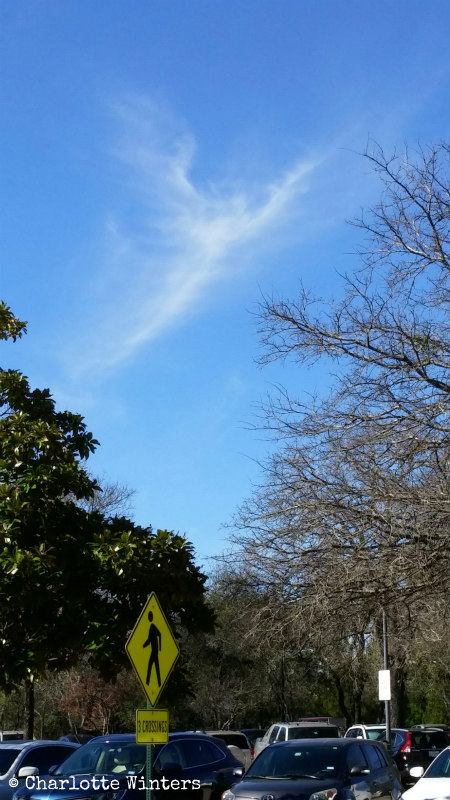 From Solaris:  Cloud angels are something I don't see a lot of.  I have gotten only a very small number of shots over a few years of clouds that so clearly resemble angels.  So when I saw these photographs by Charlotte Winters, I knew they were something special!!
The feel and beauty of this figure, a cloud angel in the skies, is wonderful and expanding… hopeful and joy bringing, even.  Lucky for us, Charlotte agreed to share her photographs and her experience with seeing this angel in the skies.
From Charlotte:
I can write a little about what was going on with me around that time.
I am in the process of selling my house and relocating due to my husband getting a great job and career opportunity in a neighboring county in Texas, just south of Houston. We have family in the area and my husband has been living with his sister and her family since December when he started the job.
We put our house on the market in January and our 22 year old son who was living with us decided it was time to be on his own and not move with us once we sell the house. He moved into an apartment with his best friend on Feb 14 and I found myself alone in a big empty house on Valentine's with my 2 cats. I had such conflicting emotions and it felt like a turning point. I wasn't lonely, but the house definitely felt emptier without my son's amiable presence.
The next day is when I looked up and saw the cloud angel during my morning walk at work with a few of my co-worker friends. I pointed it out to my friends and stopped to take a picture of it once we got to a clear spot (the picture with it over the cars). My friends made light Christian-based comments about guardian angels but other than making them smile, it didn't seem to impress them the way it did me.
I kept my eye on the cloud angel as we walked and continued to take pictures, most of which are unfocused and fuzzy. As we came out from the trees near the offices, I realized that the cloud was not dissipating the way the other clouds in the area were. Indeed, it seemed to get more defined and larger, as if it was coming closer.
I felt an incredible sense of lightness and expansive love as I watched it in front of me in the sky. Even as the ladies and I returned to our building, I continued to feel light and loving and I could clearly see the cloud angel in my mind's eye for the rest of the day. The experience felt like such a gift that I didn't think to question it or analyze it at all at the time.
Personally, the cloud angel experience helped steer me into a lighter, more open and positive attitude of letting my son go and to be okay with being on my own during those times of deep quiet in my empty house. My son still comes over frequently for dinner and my husband comes home every weekend so I'm not completely on my own all the time. I find I am actually enjoying my own company and developing an identity beyond the roles I took on as mother and wife.
As I read Charlotte's description of her experience with the cloud angel, I found tears flowing from my eyes.  I guess it is the expansion of love I feel from the cloud angel image in this picture.  This opens my heart and love pours out and in.
But, it is also my deep gratitude that we receive signs like this aligned with our deepest knowing.  Our deepest knowing, that everything will be alright, that there is love in our world abundantly available for us, if we are willing to look and to receive.
Thanks so much, Charlotte, for sharing your photos and your personal experience.
Love,
Solaris
© 2017 Solaris Modalis. All Rights Reserved. Permission is given to share this article on other blogs and websites as long as the text is posted in its entirety without alteration and with the accompanying photos, and with the author's credit, copyright and live website links included in the article. Check out the blog and more photographs at www.SolarisModalis.com.  Photo © 2017 Charlotte Winters.  Photo used with permission.