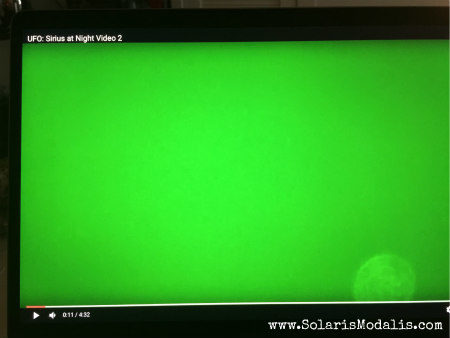 When I viewed the videos of the UFO in front of Sirius, a green flash emanated twice from the UFO and turned the entire frame green.  I was able to get still shots of the flash.  I've gone over the video again and again and haven't been able to recreate the flashes – but perhaps you will see them.
When I first saw and felt the flash, it was like the green flash energy contacted my energy field and I felt a surprise at the connection, like a slight electric shock.
It's almost like there was a transmission, and it was received, and now it doesn't need to be sent anymore.  LOL mysteries of light – let's put it in that category.
Love, Solaris
Here are the links to the video, stills, and text:
UFO: Sirius at Night
There are three videos in this series.  In each video the UFO has slight different characteristics.  Links follow:
Video 1: UFO starts smaller and expands, moves in and out of frame, green flash at 21 seconds.
Video 2: UFO expands it's size and moves around – with green flash at 11 seconds.
Video 3:  UFO and I are finally coordinated and it stays in the frame the entire time!
Portfolio image of blue colored UFO in front of Sirius.
All photography and videos by Solaris Modalis are unedited.
© 2017 Solaris Modalis. All Rights Reserved. Permission is given to share this article on other blogs and websites as long as the text is posted in its entirety without alteration and with the accompanying photos and video, and with the author's credit, copyright and live website links included in the article. Check out the blog and more photographs at www.SolarisModalis.com.
If you enjoyed this article, you might like these also: